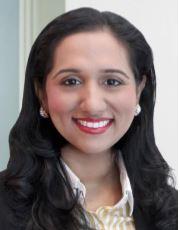 Smitha is a Partner in the Restructuring & Insolvency Practice and the Banking & Financial Disputes Practice.

Recent matters of significance which Smitha has been involved in include advising and acting for the Judicial Managers of Singapore-listed Technics Oil & Gas Limited and main subsidiary Technics Offshore Engineering Pte. Ltd, the receivers over assets of entities in the Swiber Holdings Group, the liquidator of Encus International Pte. Ltd. in successful clawback action proceedings, an ad hoc group of bondholders in respect of the PT Bumi Group; a foreign bankruptcy trustee appointed by the Tokyo District Court over BVI-incorporated companies in recognition proceedings, court appointed receivers and managers of Airtrust (Singapore) Pte. Ltd. in shareholders' disputes involving allegations of breaches of directors' duties, unauthorised payments, diversion of business, transnational fraud, forgery, money laundering and tax evasion, a litigation fund in respect of removing the control of certain individuals believed to have engaged in fraudulent transactions; several stakeholders on Singapore aspects of the US$1.6 billion collapse of MF Global; the judicial managers and liquidators of Jones the Grocer International Pte. Ltd and an international private equity firm in a shareholders' dispute arising from a US$260 million leveraged buy-out of a technology company which resulted in proceedings before the Courts in Singapore, Mauritius and the UK.

Smitha was cited in Global Restructuring Review's 40 under 40 list (2016) of the world's leading restructuring lawyers.

Smitha is active in the Singapore Academy of Law and the Law Society of Singapore. A former Council member of the Law Society and the Chairperson of the Law Society's Young Lawyers' Committee, she currently serves on the Regional Coordinating Committee of the International Chamber of Commerce Young Arbitrators Forum, the Professional Affairs Committee of the Singapore Academy of Law and chairs the Young Members Chapter. Smitha is also the treasurer of the Singapore network of the International Women's Insolvency and Restructuring Confederation (IWIRC).

Smitha graduated from King's College, London and is admitted to the Singapore Bar.