His Hon Mr Justice Ian Kawaley - The Chief Justice of Bermuda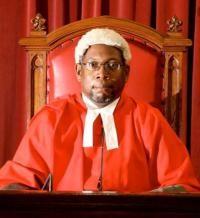 Ian R. C. Kawaley is a Judge of the Commercial Court, a division of the Supreme Court of Bermuda.
Prior to his appointment to the Bench in 2003, he served as Litigation Counsel to the Bermudian law firms Milligan‐Whyte & Smith, and Juris Law Chambers. In that capacity, he appeared before the Supreme Court and Court of Appeal, specializing in insolvency cases with an international dimension. His earlier career was spent as a government lawyer (in Bermuda and Seychelles), and as a legal aid practitioner with Browne & Wade Chambers (Bermuda) and in the Chambers of Sibghat Kadri Q.C. (11 Kings Bench Walk, Temple, London).
Justice Kawaley is the co-editor (with Gabriel Moss Q.C., Howard Seife and Nigel Montgomery) of 'Cross-Frontier Insolvency of Insurance Companies' (Sweet & Maxwell: London, 2001). He is a regular presenter at international insolvency conferences, and is the author of numerous articles on commercial, constitutional and public international law.