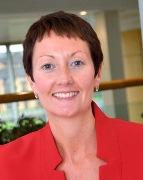 Claire Orr took up her position as Executive Director of Policy and Compliance at AiB in August 2010. A professional policy analyst, Claire's 26 year career has been dedicated to public service.
In her previous role as Head of Rail Policy at Transport Scotland, Claire was responsible for developing 'Scotland's Railways', the first ever rail strategy of the Scottish Government. Prior to that she worked in a variety of Ministerial private office and policy roles in Scotland and Westminster in support of both Scottish and UK Ministers.
The diversity of Claire's career within Government has provided her with a particular insight into the workings of both parliaments. Claire is the Assistant Chief Executive.