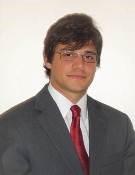 Andres F. Martinez
Private Sector Development Specialist, Debt Resolution & Business Exit, Investment Climate World Bank Group

Andres F. Martinez is the regional product lead for the World Bank Group's "Debt Resolution and Business Exit" program for Eastern Europe and he is currently working on insolvency reform programs in two other regions.  In his current position, he leads on behalf of the WBG Investment Climate department the dialogue with governments on technical issues related to debt resolution (including insolvency) and the support to regional IFC offices.
Andres is a lawyer by training with over 12 years of experience and a Magister in corporate law. He joined the World Bank Group in 2008 to lead the Insolvency indicator of the World Bank-IFC Doing Business project, in charge of a team that undertook the review of insolvency legislation of countries around the world. In early 2011 he moved to his current position.
Before joining the World Bank Group, Andres worked as senior associate at the restructuring and litigation department of a top three Argentine law firm in Buenos Aires for over 6 years, where he advised clients like Citibank, Visa, Unilever and other large domestic and international corporations.
In the past, Andres was Latin American chess champion of his age (1994) and the youngest lawyer of Argentina (years 2000 and 2001).