IAIR Conference and Annual General Meeting - 2013 Edinburgh, Scotland
From 08/09/2013 to 11/09/2013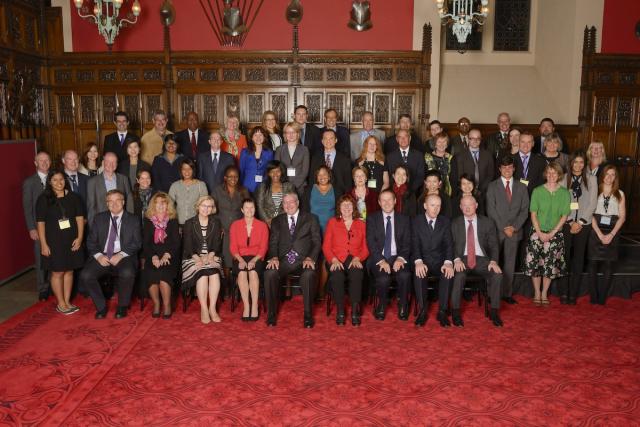 "Managing an Insolvency Regime in a Difficult Financial Economic Climate"
An exciting conference with an agenda that was designed to provide essential information and updates for regulatory bodies around the world that are facing the challenges of providing an insolvency regime in the current difficult financial climate. An opportunity to network, share experiences with colleagues and learn from best practice around the world.
Set in the stunning location of central Edinburgh, we offered a true warm Scottish welcome to all delegates and accompanying partners. Our evening events provided access to two key Scottish tourist attractions – in a way that few tourists are usually able to experience.
Location: The George Hotel, Edinburgh, Scotland
Date: 24-26 September 2013
Welcome Reception on 23 September 2013 at Edinburgh Castle, Hosted by Fergus Ewing MSP
on behalf of The Scottish Government
Formal Dinner on 24 September on the Royal Yacht Britannia
Sponsored by Harper Macleod LLP
THE LOCATION - SCOTLAND
2013 was the Year of Natural Scotland - a chance to enhance Scotland's reputation as a place of outstanding natural beauty. The aim of Year of Natural Scotland 2013 is to promote Scotland's stunning natural beauty and biodiversity, and promote ways in which visitors can enjoy our beautiful landscapes, wildlife and heritage.
Packed with history, Edinburgh, also known as Auld Reekie and the Athens of the North, was founded in the 7th century and is so old that streets have been built on top of older streets from medieval times with over 4,500 listed buildings in the city. Ghost stories are rife and visitors can take a tour into the vaulted chambers below the Royal Mile, purportedly one of the most haunted places in Britain.
A haven of the arts, Edinburgh hosts a range of world famous festivals and events including the Edinburgh International Festival, the Edinburgh Fringe, the Edinburgh International Film Festival, the Edinburgh International Book Festival, the Hogmanay Street party, the Edinburgh Military Tattoo and the Edinburgh Science Festival to name a few. With events happening throughout the year, the city is a delight for visitors. Galleries, museums and parks abound for anyone left without something to do and the city is considered one of the most picturesque in Europe.
Step outside the city into the lush Lothian countryside and you enter a sweeping green landscape filled with castles, country houses and ancient battlefields, a reminder of Scotland's rich past.
The primary attraction can be found in the otherwise unremarkable village of Roslin, some seven miles south of Edinburgh city centre. Here you'll find the mysterious, richly decorated late-Gothic Rosslyn Chapel, which featured prominently in the blockbuster film and book, 'The Da Vinci Code'.
Explore Scotland, famous for its historic castles, traditional highland games and beautiful lochs, and discover the setting of world-famous movies, the place for stylish shopping and the perfect stage for new and exciting events.