IAIR Conference and Annual General Meeting - 2011 St Helier, Jersey
From 19/06/2011 to 22/06/2011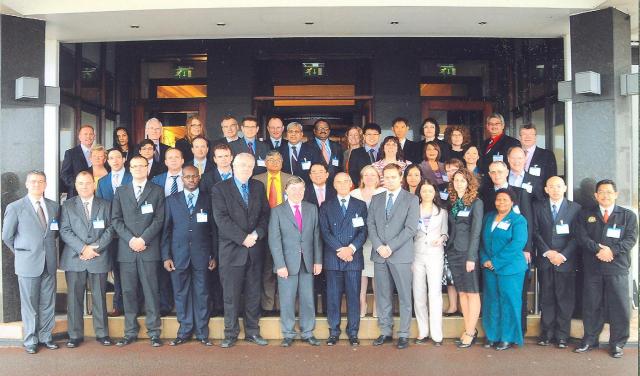 The Conference was hosted by The Viscount of Jersey.
RECEPTION
The conference began with The Viscount's Reception on Sunday 19 June 2011 at the Grand Hotel. Guests included The Minister for Treasury and Resources and The Minister for Economic Development. This event was kindly sponsored by the Economic Development Department of the States of Jersey.
FORMAL CONFERENCE DINNER
The formal conference dinner was held on Monday 20 June in The Grand Hotel.
INFORMAL DINNER
On Tuesday 21 June the conference delegates and accompanying persons were given a Tour of the Jersey War (Occupation) Tunnels. There was then the Viscount's reception followed by an informal dinner at the Jersey War Tunnels Restaurant.
Jersey War Tunnels is Jersey's most visited tourist attraction as well as an important site of heritage and conservation. The Tunnels were originally intended to be a barracks and ammunition store for the occupying forces. Today they tell the story of the Occupation, looking at how all sides coped under such extreme conditions and examining the daily dilemmas that were faced by island residents and the authorities, whether Jersey, British or German.
http://www.jerseywartunnels.com
VISIT
The conference provided delegates with an opportunity for a Tour of the Royal Court of Jersey and States (Parliamentary) Chamber.
http://www.jerseycourts.je/
Jersey is constitutionally a dependency of the British Crown. It is part of the British Isles but not part of the United Kingdom. It governs its own internal affairs and raises its own taxes, but the UK is responsible for the island's defence, overseas representation and international affairs.
Jersey has its own legislative assembly - The States of Jersey - a system of local government through the parishes, and a completely distinct fiscal and legal system and courts of law. Jersey is not represented in the UK Parliament, so acts of Parliament only apply to the island if it is expressly agreed that they should do so.
The Royal Court of Jersey is the principal court on the Island and hears both civil and criminal cases. There are two full-time judges the Bailiff (Chief Justice) and the Deputy Bailiff. Part-time judges, called 'Commissioners', are also appointed when needed for specific cases or for specific periods